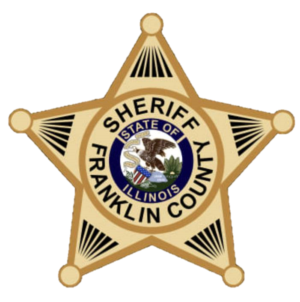 Sheriff of Franklin County, Kyle Bacon
The mission of the Franklin County Sheriff's Office is to work in partnership with our fellow citizens of Franklin County to enhance the quality of life in our community by raising the level of public safety through law enforcement and community service, and to work with other groups and organizations to accomplish these goals. Service will be our commitment and integrity our mandate.
403 East Main Street | Benton, IL 62812
Emergency: 911
Non-Emergency: (618) 438-4841
Fax: (618) 438-0306
Franklin County Sheriff's Office – Mobile App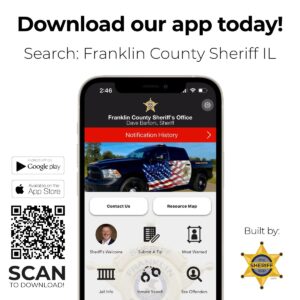 In an effort to utilize technology that is available and to keep the public better informed the Franklin County Sheriff's Office has launched a new mobile app!
The Franklin County Sheriff's Office is very excited to utilize the Franklin County Sheriff's App to better communicate with the communities that we serve. The app provides an avenue for the Sheriff's Office to increase transparency by utilizing technology for public awareness and information regarding public safety.
The app was paid for through funds from the jail's commissary and did not come at a cost to Franklin County taxpayers. The Sheriff's App is a free download on both iPhone and Android phones. Simply go to your App Store and download Franklin County Illinois Sheriff.
Franklin County Sheriff's Office – School Resource Deputy Program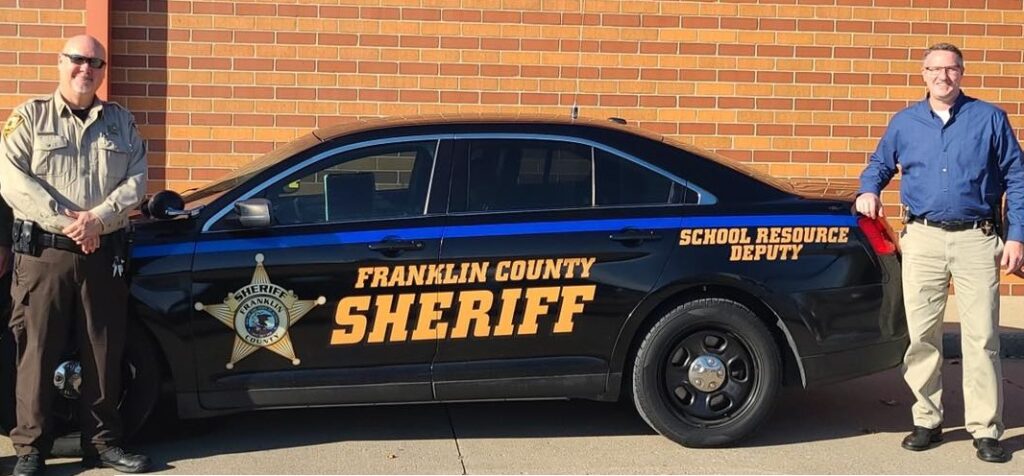 The Franklin County Sheriff's Office is excited to announce the formation of a School Resource Officer Program. The goal of the program is to maintain a safe learning environment and build positive relationships with students, parents, educators, and school administrators. We believe that positive police presence in schools will greatly reduce violence, acts of physical aggression, and other safety related issues.
---
Numerous school facilities and municipal police departments throughout Franklin County have already established School Resource Officer Programs, however, not all Franklin County Schools have dedicated SRO's. It is our desire and goal to not only work in cooperation with those established SRO Programs but to also expand SRO services to those rural schools not currently covered.
---
Establishing a School Resource Officer Division is an expensive endeavor, but it is our belief that the protection of our school age children is well worth the cost. In the coming months and years, we hope to grow the program to ensure that every Franklin County School has a full time SRO placed within each learning facility.
---
Deputy Sheriff Ron Howard was recently hired to serve as the first School Resource Deputy and he has been tasked with assisting in the establishment and growth of the program. Deputy Howard previously served as a West Frankfort Police Officer and recently retired after 29 years of service. Deputy Howard has extensive law enforcement training and was recently recognized by the Illinois Police Training and Standards Board as a Certified School Resource Officer. Deputy Howard will work to establish relationships with existing SRO Programs and serve as the SRO and Sheriff's Office Liaison for rural schools not currently covered.
---
It is the desire of the Franklin County Sheriff's Office to provide the best law enforcement services possible within our schools with the ultimate goal of assisting in providing a safe and secure learning environment for our children.
Illinois Sheriff's Association Scholarship Application
In 1979, the ISA established a scholarship program for college-bound students. Scholarships ranging from $500 to $1000 are awarded to students who demonstrate outstanding scholastic, extra-curricular and character qualifications. Each Illinois county awards at least one $500 scholarship each school year. The scholarship program is open to Illinois students attending an Illinois higher learning institution. College scholarship applications are available beginning in January each year and winners are announced in May.
Cebrin Goodman Teen Institute: (formerly ITI)
Every summer ISA awards scholarships for Illinois students to attend the Cebrin Goodman Teen Institute on Substance Abuse (CGTI). The CGTI is a national, award winning prevention program of the Illinois Alcoholism and Drug Dependence Association. While making friends and having an amazing experience, students develop leadership skills, increase their knowledge and learn to prevent alcohol and drug addictions in their families and communities. To apply for a scholarship to attend this exeptional program, click the CGTI Scholarships link below.
To download a scholarship packet click Illinois Sheriff's Association.
Jail Facility Visitation Policy
Please contact the Franklin County Sheriff's Office at 618-438-4841 for more information on inmate visitation.
Report A Crime – Suspicious Activity – Call the Tip Line
To access the Franklin County Sheriff's Office Tip Line please contact: 618-439-9561 All tips and reports are confidential.